Flexsteel: America's Seating Specialist
Hafers Home Furnishings & Design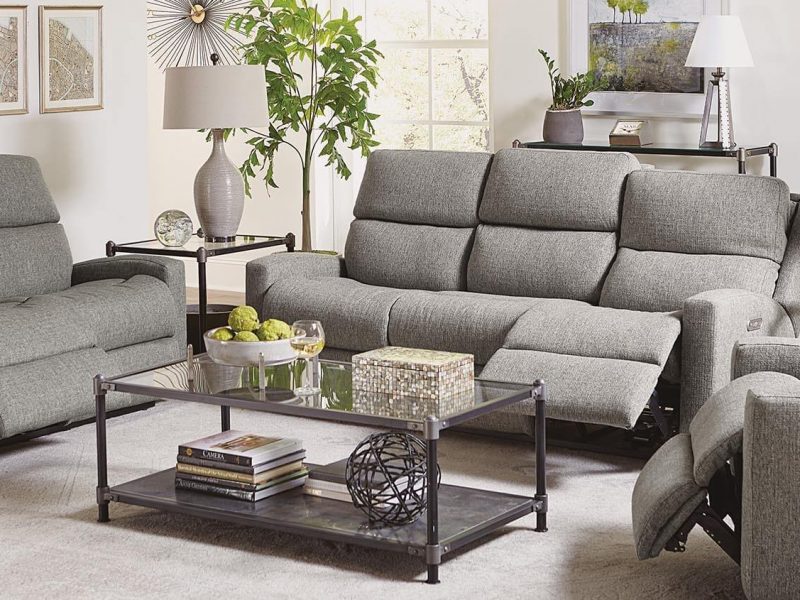 Growing from a small factory in Minneapolis to a leading operation throughout the U.S., Flexsteel carries forward a tradition of quality started over 100 years ago. Founded in 1983 as Rolph & Ball Furniture Company, Flexsteel has specialized in upholstered furniture for more than a century.
In the early 1900s, the company's catalog included sofas, sofa sleepers, chairs, and hospitality furniture. With a strong commitment to innovation, the company began manufacturing their innovative Blue Steel Spring system to differentiate their products from competitors. In 1936, Flexsteel moved to Dubuque, Iowa and has been producing the Flexsteel brand ever since.
Dedicated to craftsmanship, Flexsteel's unique all-steel support system is the foundation of every upholstered chair or sofa. Designed for maximum comfort and support, the Blue Steel Spring system is guaranteed for a lifetime of use.
Upholstered Furniture
From modern to traditional styles, Flexsteel offers more than 100 frame styles to choose from. Whether you are redesigning your home or simply updating your sofa, Flexsteel frame and leg designs are built to complement the style of your space or your existing furniture grouping.
With more than 1,000 upholstery fabric and leather choices, Flexsteel offers unlimited colors, textures, and styles to fit your comfort and lifestyle needs. Flexsteel performance fabrics are available in a range of colors and perfect for every room in your home. Family and pet friendly, the fabrics are stain and fade resistant, and easily cleaned in the event of spills. For a mix of luxury and comfort, buttery leather offers a soft and warm finish to Flexsteel furniture.
Power Motion Furniture
Flexsteel power motion chairs, sofas, and sectionals offer a full range of power functionality in a refined design. Smoothly recline to any angle with the touch of a button, whether you're enjoying a great book or relaxing and watching TV. The gentle reclining motion is perfect for all levels of mobility, and adjustable headrests allow for custom relaxation and support.
Many Flexsteel motion pieces include innovative built-in features to simplify your life. USB charging stations allow you to conveniently charge your phone or other devices without ever leaving the comfort of your living room, and hidden console storage and side pockets provide a place to store remotes and chargers. Wireless power options in many Flexsteel recliners give you the flexibility to place them anywhere in your home, allowing you to enjoy about a week of wireless reclining.
Known as America's seating specialist, Flexsteel is committed to quality and craftsmanship, and offers a lifetime warranty on springs, wood frames, and cushions. Visit Us today to learn more about Flexsteel from our design specialists.
Creative ideas and design tips. The latest styles trending and design concepts that help you to get the most out of your home.
Guidance for picking the right pieces. Useful tips for how to recognize quality and how to make it last.
"Best furniture store in town! Elizabeth is wonderful & always willing to work with your budget. We have now purchased several QUALITY pieces from Hafers and couldn't be happier with them!"
"We have purchased several pieces of furniture from Hafers and love all of them. The quality of the brands they carry is exceptional and the staff is more than helpful."
"Great selection, quality and customer service! No need to shop anywhere else! Good experience. Love my bedroom set. Delivery service was exceptional."
"The prices were very reasonable for the quality. The sales staff were very professional and were there to answer any questions we had."
"Purchased many items for our home a few years ago. Still looks great with 2 active kids. Highly recommend."
"I ordered a recliner with heat massage and the person who helped find it was very helpful. When it came the delivery guys did a great job setting up and showing me how it works."
Join our e-mail list to find out about our special events and private sales