Hafers Home Furnishings & Design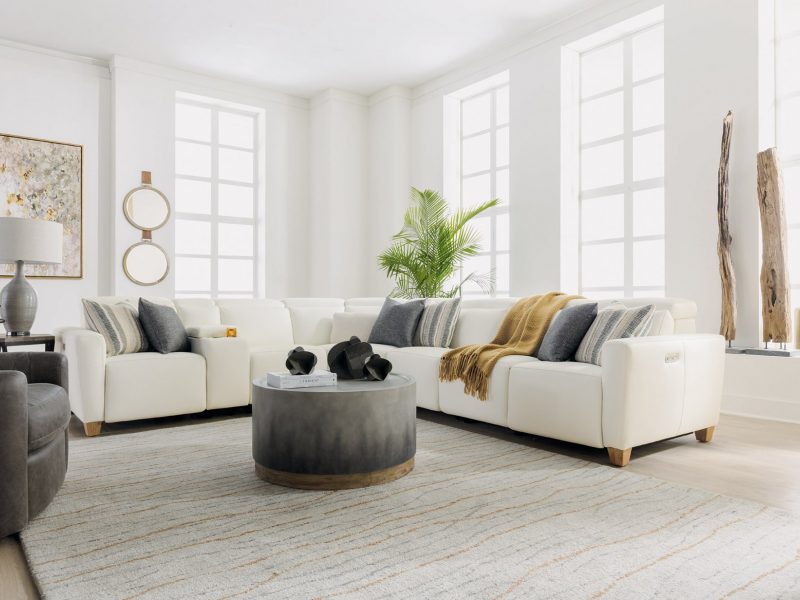 Photo Credit: ASTRA Modern Modular Motion by Flexsteel
Your sofa is one of the most important investments you'll make for your home and your family. Our tips on how to choose the right sofa for your space will help you shop smart as you make an investment in your comfort and home.
Try before you buy
Testing sofas in person is essential. While photos can give you a sense of your favorite styles, a quality sofa is all about the construction and the materials. Before making an investment, you'll want to see and feel the quality of the seating support, cushions, and fabric or leather.
To test the quality of seating support, shop in person and sit on different sofa styles to test the comfort and back support. Sit in various spots to test the feel, and make sure you never feel the seat springs through the cushions. While 36 inches is a standard sofa depth, you may opt for a depth of 40 to 42 inches for more comfort.
Invest in a high quality frame
Invest in the highest quality frame you can afford, and you'll enjoy years of comfort with your new sofa. High quality sofa designs like those from Flexsteel are constructed with strong hardwood frames and reinforced joints for extra support.
Test the cushions
Try sitting on different sofa fillings to test the level of firmness or softness that's most comfortable for you. If the sofa has removable cushions, unzip a seat cover to check the quality—look for a block of high-density foam wrapped with dacron or cotton. If the cushions are reversible, you'll get double the wear out of them, and protective inner covers can protect your cushions from moisture and increase their lifespan.
Fabric versus leather
Quality fabrics come in unlimited colors and patterns, and offer a soft and warm finish to your furniture. Most fabrics are stain and fade resistant, and easily cleaned in the event of spills, making them a great option for active households with kids and pets.
For a rich and warm appearance, top-grain leather offers plush comfort. Available in a variety of colors to perfectly complement your decor, top-grain leathers are highly durable with a consistent finish that lasts.
Don't forget to measure
Before you head out to shop, measure your living room or family room, your available space for a sofa, and the height of your coffee table and side tables. You'll also want to measure the dimensions of any doors the sofa will pass through during delivery. Once you know your dimensions, bring a measuring tape with you to ensure that the sofa you choose will fit comfortably in your space.
If you're ready for a new sofa, our furniture experts are here to assist you — contact us today to get started.
Creative ideas and design tips. The latest styles trending and design concepts that help you to get the most out of your home.
Guidance for picking the right pieces. Useful tips for how to recognize quality and how to make it last.
"Best furniture store in town! Elizabeth is wonderful & always willing to work with your budget. We have now purchased several QUALITY pieces from Hafers and couldn't be happier with them!"
"We have purchased several pieces of furniture from Hafers and love all of them. The quality of the brands they carry is exceptional and the staff is more than helpful."
"Great selection, quality and customer service! No need to shop anywhere else! Good experience. Love my bedroom set. Delivery service was exceptional."
"The prices were very reasonable for the quality. The sales staff were very professional and were there to answer any questions we had."
"Purchased many items for our home a few years ago. Still looks great with 2 active kids. Highly recommend."
"I ordered a recliner with heat massage and the person who helped find it was very helpful. When it came the delivery guys did a great job setting up and showing me how it works."
Join our e-mail list to find out about our special events and private sales